The American Association for the Advancement of Science is involved in  pioneering work using satellite imagery for monitoring human rights issues. The various was technology extends and enhances
visibility
is a primary way technology is being leveraged for human rights.
See: http://shr.aaas.org/geotech/Bodo.shtml
"Geospatial Technologies and Human Rights
The AAAS Scientific Responsibility, Human Rights and Law Program, with funding from the Oak Foundation, works to expand the applications of geospatial technologies to human rights issues through its Geospatial Technologies and Human Rights Project.
Geospatial technologies include a range of modern tools, such as remote sensing, geographic information systems (GIS), and Global Positioning Systems (GPS) that allow for mapping and analysis of multiple layers of georeferenced data.
Analysis of such data can provide critical information on:
the impact of remote, isolated conflicts on civilians
a host of human rights violations
environmental and social justice issues
Geospatial technologies can broaden the ability of non-governmental organizations to rapidly gather, analyze, and disseminate authoritative information, especially during times of crisis. They can also provide compelling, visual proof to corroborate on-the-ground reporting of conflicts and natural disasters affecting human rights.
SRHRL partners with human rights organizations to provide technical assistance in using geospatial technologies to strengthen advocacy campaigns, support legal cases, and enhance response coordination and prevention efforts.
False-color imagery of waterways southwest of Bodo, Nigeria on 26 January 2009 display the effects of a major oil spill, with vegetation death concentrated primarily near the river and its tributaries. For more information, see our report."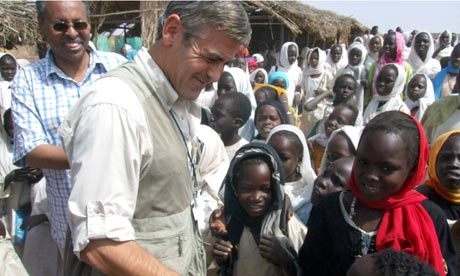 George Clooney on a visit to the Zamzam refugee camp in north Darfur in 2008. Photograph: Sherren Zorba/AP
" Raymond is director of the 
Satellite Sentinel Project
 (SSP), which aims to use advanced satellite imagery to monitor potential 
human rights
 abuses in
Sudan
. And it was all Clooney's idea, turning him from just another Hollywood liberal with a pet cause to a genuine expert and campaigner on Sudan. Together with John Prendergast, another campaigner, Clooney has sneaked repeatedly into the country to document the random bombing of civilians and other atrocities.
…But it is in the day-to-day work of the Satellite Sentinel Project that Clooney's impact is really being felt. He came up with the idea, and spoke to Google and the satellite company DigitalGlobe to help set it up, and he donates hefty speaking fees to keep it funded. It has been up and running now for 15 months.
…Based in a nondescript suite of offices near Harvard Square in the Boston suburb of Cambridge, Raymond heads a small team of staff and student volunteers who monitor events on the ground in the heart of what is practically a war zone. Every day Raymond and his staff meet in what is dubbed the "situation room" and news and reports from Sudan are analysed. They also pore over satellite pictures and compare them with a database of previous shots, looking for changes such as new military roads or camps, or troops on the move.
One day last week, SSP staffer Brittany Card was analysing news stories from Sudan describing a governor visiting two camps that were listed as mobilisation points for the People's Defence Force, a militia group widely used in repressive actions by the government. SSP imaging expert Isaac Baker traced out two rectangles to cover each camp. "We don't have a recent collect on that," observed Raymond. Baker began to tap out a request for fresh satellite imagery as Raymond and Card discussed which camp to monitor if only one picture could be taken. "The one on the east," she said eventually. By using such advanced satellite imagery and being able to commission and take photographs within hours of receiving reports from the ground, SSP can genuinely plot and analyse the course of the conflict. "We don't move the pieces on the chess board. But we have to figure out what they mean," said Raymond.
SSP's work was initially conceived as mostly gathering evidence that might be used in any future war crimes tribunal for Sudanese leaders. But the imagery was so accurate that it could also be used to monitor claims about massacres and mass graves. After someone on the ground described watching bodies being buried in a mango grove in the town of Kadugli, SSP was able to document the site from the air. It also uncovered what appeared to be body bags lying in freshly dug pits elsewhere in the town.
It has also shown troops surrounding towns and burned villages. In one astonishing set of images, it even captured an Antonov transport plane – from which Sudanese forces regularly roll out bombs – caught in mid-flight with plumes of smoke rising where the explosives had been dumped on civilian targets.
In September last year, the group's analysis revealed what appeared to be an imminent attack on the town of Kurmuk in the Blue Nile province. Photographs revealed at least 3,000 troops equipped with tanks, artillery and attack helicopters. That prompted SSP to issue a warning, giving an opportunity for many to flee.
For Raymond and his team, it was a turning point: they were no longer just observers, but were able to have an impact. For a humanitarian group operating thousands of miles away from the crisis, this was new territory.
"No one is doing what we are doing right now. It is a splitting the atom moment for the human rights community," said Raymond. However, the experience of Kurmuk – which did later fall to the army – also came with a sense of danger and great responsibility. "What if we get the direction the force is going wrong? You could have walked the civilian population right into them," he said.
There is already talk of the group's methods being applied to Syria, or to other nations caught in the turmoil unleashed by the Arab spring. It has overturned the idea of what investigating human rights abuses means.
"It is no longer enough just to stand at the graveside snapping pictures; that doesn't cut it any more," said Raymond."
A response from Amnesty International on Vint Cerf's NYT op-ed on the internet and human rights:
"A curious op ed appeared in The New York Times recently, titled "Internet Access is Not a Human Right." In this piece—which I read as I do most news and media, via my computer—Vinton Cerf, a "father" of the Internet, makes an argument that despite the critical role of Information Communication Technologies (the internet) in the uprisings in the Middle East and North Africa, access to the Internet is not a human right.
I should note that his right to express himself so is enshrined in Article 19 of the Universal Declaration of Human Rights (UDHR):
Everyone has the right to freedom of opinion and expression; this right includes freedom to… seek, receive and impart information and ideas through any media and regardless of frontiers.
The curious bit of his piece though, isn't the claim that Internet Access is not a human right, but rather the exceptionally narrow portrayal of human rights from a legal and philosophical perspective.
Here's how human rights work: We have an established body of international law that represents the aspirations of humanity for each human being in realizing their inherent dignity and autonomy. States are obligated under this body of law to enact domestic laws or policies to realize those rights. Simple stuff.
But people, societies, and cultures change. Regimes and systems of governance change. And faster than anything else, technologies change and science produces ever greater knowledge of truth. And that means that policies and interpretation of what human rights guarantee must also change.
As a relevant aside,
Everyone has the right freely to participate in the cultural life of the community, to enjoy the arts and to share in scientific advancement and its benefits. (Article 27 of the UDHR).
In just over a decade, communication technologies have become indispensable to the world's most marginalized people. Indeed, loss of access would be a mere annoyance to me. In places from Sub-Saharan Africa to the most impoverished communities here in the US, however, loss of access could mean an immediate threat to lives and livelihoods. No, not for me or Mr. Cerf.
And the increasing necessity of internet access for the world's most impoverished as it relates to health, education, employment, the arts, gender equality—all things we have the right to enjoy means that Information Technologies (yes, the Internet) are inseparable from the rights themselves.
What is the Internet? It is an endless network of people, information, and knowledge. And resting on the architecture of the Internet is a digital public space found in social and professional networking that rivals the richness of any physical town square. And—using Cerf's logic—while access to the physical town square may not be a human right in isolation, it has always been for most inseparable from the right to association and expression. And denial of access to the town square through curfews, martial law, or emergency rules are tantamount to restriction on association and expression.
The rights enshrined in the UDHR are to be enjoyed by all people, in all places, and at all times. Technological progress will always change how people enjoy their fundamental rights, and require governments and people to reaffirm the inseparability rights, and the methods of enjoyment of those rights.
In a recent UN report—published at the height of the uprisings in the Middle East and North Africa— Special Rapporteur Frank La Rue acknowledges the pivotal role the internet plays for the exercise of human rights:
The Special Rapporteur underscores the unique and transformative nature of the Internet not only to enable individuals to exercise their right to freedom of opinion and expression, but also a range of other human rights, and to promote the progress of society as a whole.
I get asked by students more than occasionally: Given that the UDHR and the core human rights covenants prohibit discrimination based on gender or on race, why do we also have CEDAW? Or CERD? (Separate treaties relating to discrimination against women and racial discrimination).
The simplified answer is: We have them because the original guarantees as elaborated weren't enough. We have them because our evolving understanding of the rights enshrined in the UDHR required new instruments to guarantee those rights. We have them because someone, somewhere, refused to make the necessary changes to policy or practice to guarantee some segment of the human family the rights they were already guaranteed in the UDHR.
Because someone, somewhere said "that's not a human right."
Follow Scott Edwards on Twitter @sxedwards"

Video available here
"Well, good evening, and it's wonderful to be back in The Hague. I want to thank my colleague and friend, Foreign Minister Rosenthal, a longtime friend, and co-conspirator from time to time, Eric Schmidt. Also, thanks to Leon Willems, the director of the Free Press Unlimited, and to those of my colleagues whom I know are here, namely Carl Bildt, an incredibly connected foreign minister, along with other ministers, ambassadors, the diplomatic community, and ladies and gentlemen.
It's a pleasure to join you here today to discuss this issue, because we think it is vitally important to every nation represented and every nation in the world; namely, internet freedom. And I want to thank Uri and the Netherlands for hosting this conference, which is a reflection of your long tradition of defending and advancing people's human rights and fundamental freedoms everywhere, including online. And thanks as well to the representatives of nearly two dozen other governments here, all of whom I know will be working to get real solutions and recommendations agreed to tomorrow. I'm pleased we also have representatives from the private sector and civil society. So it all adds up to a multi-stakeholder event.
Now, in two days, on December 10th, we'll celebrate Human Rights Day, which is the anniversary of the adoption of the Universal Declaration of Human Rights. And in the 63 years since that achievement, the world has been implementing a global commitment around the rights and freedoms of people everywhere, no matter where they live or who they are. And today, as people increasingly turn to the internet to conduct important aspects of their lives, we have to make sure that human rights are as respected online as offline. After all, the right to express one's views, practice one's faith, peacefully assemble with others to pursue political or social change – these are all rights to which all human beings are entitled, whether they choose to exercise them in a city square or an internet chat room. And just as we have worked together since the last century to secure these rights in the material world, we must work together in this century to secure them in cyberspace.
This is an urgent task. It is most urgent, of course, for those around the world whose words are now censored, who are imprisoned because of what they or others have written online, who are blocked from accessing entire categories of internet content, or who are being tracked by governments seeking to keep them from connecting with one another.
In Syria, a blogger named Anas Maarawi was arrested on July 1st after demanding that President Asad leave. He's not been charged with anything, but he remains in detention. In both Syria and Iran, many other online activists – actually too many to name – have been detained, imprisoned, beaten, and even killed for expressing their views and organizing their fellow citizens. And perhaps the most well known blogger in Russia, Alexei Navalny, was sentenced on Tuesday to 15 days in jail after he took part in protests over the Russian elections.
In China, several dozen companies signed a pledge in October, committing to strengthen their – quote – "self-management, self-restraint, and strict self-discipline." Now, if they were talking about fiscal responsibility, we might all agree. But they were talking about offering web-based services to the Chinese people, which is code for getting in line with the government's tight control over the internet.
Now, these and many other incidents worldwide remind us of the stakes in this struggle. And the struggle does not belong only to those on the front lines and who are suffering. It belongs to all of us: first, because we all have a responsibility to support human rights and fundamental freedoms everywhere. Second, because the benefits of the network grow as the number of users grow. The internet is not exhaustible or competitive. My use of the internet doesn't diminish yours. On the contrary, the more people that are online and contributing ideas, the more valuable the entire network becomes to all the other users. In this way, all users, through the billions of individual choices we make about what information to seek or share, fuel innovation, enliven public debates, quench a thirst for knowledge, and connect people in ways that distance and cost made impossible just a generation ago.
But when ideas are blocked, information deleted, conversations stifled, and people constrained in their choices, the internet is diminished for all of us. What we do today to preserve fundamental freedoms online will have a profound effect on the next generation of users. More than two billion people are now connected to the internet, but in the next 20 years, that number will more than double. And we are quickly approaching the day when more than a billion people are using the internet in repressive countries. The pledges we make and the actions we take today can help us determine whether that number grows or shrinks, or whether the meaning of being on the internet is totally distorted.
Delivering on internet freedom requires cooperative actions, and we have to foster a global conversation based on shared principles and with the right partners to navigate the practical challenges of maintaining an internet that is open and free while also interoperable, secure, and reliable. Now, this enterprise isn't a matter of negotiating a single document and calling the job done. It requires an ongoing effort to reckon with the new reality that we live in, in a digital world, and doing so in a way that maximizes its promise.
Because the advent of cyberspace creates new challenges and opportunities in terms of security, the digital economy, and human rights, we have to be constantly evolving in our responses. And though they are distinct, they are practically inseparable, because there isn't an economic internet, a social internet, and a political internet. There is just the internet, and we're here to protect what makes it great.
Tomorrow's sessions provide the opportunity for us to make concrete progress. At this kickoff event, I'd like to briefly discuss three specific challenges that defenders of the internet must confront.
The first challenge is for the private sector to embrace its role in protecting internet freedom. Because whether you like it or not, the choices that private companies make have an impact on how information flows or doesn't flow on the internet and mobile networks. They also have an impact on what governments can and can't do, and they have an impact on people on the ground.
In recent months, we've seen cases where companies, products, and services were used as tools of oppression. Now, in some instances, this cannot be foreseen, but in others, yes, it can. A few years ago, the headlines were about companies turning over sensitive information about political dissidents. Earlier this year, they were about a company shutting down the social networking accounts of activists in the midst of a political debate. Today's news stories are about companies selling the hardware and software of repression to authoritarian governments. When companies sell surveillance equipment to the security agency of Syria or Iran or, in past times, Qadhafi, there can be no doubt it will be used to violate rights.
Now, there are some who would say that in order to compel good behavior by businesses, responsible governments should simply impose broad sanctions, and that will take care of the problem. Well, it's true that sanctions and export controls are useful tools, and the United States makes vigorous use of them when appropriate; and if they are broken, we investigate and pursue violators. And we're always seeking to work with our partners, such as the European Union, to make them as smart and effective as possible. Just last week, for example, we were glad to see our EU partners impose new sanctions on technology going to Syria.
So sanctions are part of the solution, but they are not the entire solution. Dual-use technologies and third-party sales make it impossible to have a sanctions regime that perfectly prevents bad actors from using technologies in bad ways. Now, sometimes companies say to us at the State Department, "Just tell us what to do, and we'll do it." But the fact is, you can't wait for instructions. In the 21st century, smart companies have to act before they find themselves in the crosshairs of controversy.
I wish there were, but there isn't, an easy formula for this. Making good decisions about how and whether to do business in various parts of the world, particularly where the laws are applied haphazardly or they are opaque, takes critical thinking and deliberation and asking hard questions. So what kind of business should you do in a country where it has a history of violating internet freedom? Is there something you can do to prevent governments from using your products to spy on their own citizens? Should you include warnings to consumers? How will you handle requests for information from security authorities when those requests come without a warrant? Are you working to prevent post-purchase modifications of your products or resale through middlemen to authoritarian regimes?
Now, these and others are difficult questions, but companies must ask them. And the rest of us stand ready to work with you to find answers and to hold those who ignore or dismiss or deny the importance of this issue accountable. A range of resources emerged in recent years to help companies work through these issues. The UN Guiding Principles on Business and Human Rights, which were adopted in June, and the OECD Guidelines for Multinational Enterprises both advise companies on how to meet responsibilities and carry out due diligence. And the Global Network Initiative, which is represented here tonight, is a growing forum where companies can work through challenges with other industry partners, as well as academics, investors, and activists.
And of course, companies can always learn from users. The Silicon Valley Human Rights Conference in October brought together companies, activists, and experts to discuss real life problems and identify solutions. And some participants issued what they called the Silicon Valley Standard for stakeholders to aspire to.
Working through these difficult questions by corporate executives and board members should help shape your practices. Part of the job of responsible corporate management in the 21st century is doing human rights due diligence on new markets, instituting internal review procedures, identifying principles by which decisions are to be made in tough situations, because we cannot let the short-term gains that all of us think are legitimate and worth seeking jeopardize the openness of the internet and human rights of individuals who use it without it coming back to haunt us all in the future. Because a free and open internet is important not just to technology companies but to all companies. Whether it's run with a single mobile phone or an extensive corporate network, it's hard to find any business today that doesn't depend in some way on the internet and doesn't suffer when networks are constrained.
And also I would add that, in this day, brand and reputation are precious corporate assets. Companies that put them at risk when they are careless about freedom of the internet can often pay a price.
So I think it's particularly appropriate and important that the private sector is strongly represented at this meeting and that Google is co-hosting tonight's event. In both securing the promise of a free and open internet and managing the risks that new technologies raise, the private sector is a crucial partner.
But even as companies must step up, governments must resist the urge to clamp down, and that is the second challenge we face. If we're not careful, governments could upend the current internet governance framework in a quest to increase their own control. Some governments use internet governance issues as a cover for pushing an agenda that would justify restricting human rights online. We must be wary of such agendas and united in our shared conviction that human rights apply online.
So right now, in various international forums, some countries are working to change how the internet is governed. They want to replace the current multi-stakeholder approach, which includes governments, the private sector, and citizens, and supports the free flow of information, in a single global network. In its place, they aim to impose a system cemented in a global code that expands control over internet resources, institutions, and content, and centralizes that control in the hands of governments.
Now, in a way, that isn't surprising, because governments have never met a voice or public sphere they didn't want to control at some point or another. They want to control what gets printed in newspapers, who gets into universities, what companies get oil contracts, what churches and NGOs get registered, where citizens can gather, so why not the internet? But it's actually worse than that. It's not just that they want governments to have all the control by cutting out civil society and the private sector; they also want to empower each individual government to make their own rules for the internet that not only undermine human rights and the free flow of information but also the interoperability of the network.
In effect, the governments pushing this agenda want to create national barriers in cyberspace. This approach would be disastrous for internet freedom. More government control will further constrict what people in repressive environments can do online. It would also be disastrous for the internet as a whole, because it would reduce the dynamism of the internet for everyone. Fragmenting the global internet by erecting barriers around national internets would change the landscape of cyberspace. In this scenario, the internet would contain people in a series of digital bubbles, rather than connecting them in a global network. Breaking the internet into pieces would give you echo chambers rather than an innovative global marketplace of ideas.
The United States wants the internet to remain a space where economic, political, and social exchanges flourish. To do that, we need to protect people who exercise their rights online, and we also need to protect the internet itself from plans that would undermine its fundamental characteristics.
Now, those who push these plans often do so in the name of security. And let me be clear: The challenge of maintaining security and of combating cyber crime, such as the theft of intellectual property, are real – a point I underscore whenever I discuss these issues. There are predators, terrorists, traffickers on the internet, malign actors plotting cyber attacks, and they all need to be stopped. We can do that by working together without compromising the global network, its dynamism, or our principles.
Now, there's a lot to be said about cyber security. I won't go into that tonight. I'll be talking about it more, but my basic point is that the United States supports the public-private collaboration that now exists to manage the technical evolution of the internet in real time. We support the principles of multi-stakeholder internet governance developed by more than 30 nations in the OECD earlier this year. A multistakeholder system brings together the best of governments, the private sector, and civil society, and most importantly, it works. It has kept the internet up and running for years all over the world. So to use an American phrase, our position is, "If it ain't broke, don't fix it." And there's no good reason to replace an effective system with an oppressive one.
The third and final challenge is that all of us – governments, private sector, civil society – must do more to build a truly global coalition to preserve an open internet, and that's where all of you here today come in. Because internet freedom cannot be defended by one country or one region alone. – Building this global coalition is hard, partly because, for people in many countries, the potential of the internet is still unrealized. While it's easy for us in the United States or in the Netherlands to imagine what we would lose if the internet became less free, it is harder for those who have yet to see the benefits of the internet in their day-to-day lives. So we have to work harder to make the case that an open internet is and will be in everyone's best interests. And we have to keep that in mind as we work to build this global coalition and make the case to leaders of those countries where the next generation of internet users live. These leaders have an opportunity today to help ensure that the full benefits are available to their people tomorrow, and in so doing, they will help us ensure an open internet for everyone.
So the United States will be making the case for an open internet in our work worldwide, and we welcome other countries to join us. As our coalition of countries expands, countries like Ghana and Kenya represented here tonight, Mongolia, Chile, also represented, I saw, Indonesia and others, are sure to be effective at bringing other potential partners on board who have perspectives that can help us confront and answer difficult questions. And new players from governments, the private sector, and civil society will be participating in managing the internet in coming decades, as billions more people from all different regions go online. So let's lay the groundwork now for these partnerships that will support an open internet in the future. And in that spirit I want to call attention to two important items on your agenda for tomorrow.
The first will be to build support for a new cross-regional group that will work together in exactly the way that I've just discussed – based on shared principles, providing a platform for governments to engage creatively and energetically with the private sector, civil society, and other governments. Several countries have already signaled their intention to join, I hope others here will do the same, and going forward, others will endorse the declaration that our Dutch hosts have prepared. It's excellent work, Uri, and we thank you for your leadership.
The second item I want to highlight is a practical effort to do more to support cyber activists and bloggers who are threatened by their repressive governments. The Committee to Protect Journalists recently reported that of all the writers, editors, and photojournalists now imprisoned around the world, nearly half are online journalists. The threat is very real. Now several of us already provide support, including financial support, to activists and bloggers, and I was pleased that the EU recently announced new funding for that purpose. And I know that other governments, including the Netherlands, are also looking for ways to help out.
By coordinating our efforts, we can make them go further and help more people. Earlier, I heard what the foreign minister here is proposing, and we have talked about creating a digital defenders partnership to be part of this global effort. We hope tomorrow's meetings will give us a chance to discuss with other potential partners how such a partnership could work.
So while we meet here in the Netherlands in this beautiful city to talk about how to keep the internet open, unfortunately some countries are pulling very hard in the opposite direction. They're trying to erect walls between different activities online, economic exchanges, political discussions, religious expression, social interaction, and so on. They want to keep what they like and which doesn't threaten them and suppress what they don't. But there are opportunity costs for trying to be open for business but closed for free expression – costs to a nation's education system, political stability, social mobility, and economic potential. And walls that divide the internet are easier to erect than to maintain.
Our government will continue to work very hard to get around every barrier that repressive governments put up. Because governments that have erected barriers will eventually find themselves boxed in, and they will face a dictator's dilemma. They will have to choose between letting the walls fall or paying the price for keeping them standing by resorting to greater oppression, and to escalating the opportunity cost of missing out on the ideas that have been blocked \ and the people who have been disappeared.
I urge countries everywhere, instead of that alternative, dark vision, join us here today on the bet that we are making – a bet that an open internet will lead to stronger, more prosperous countries. This is not a bet on computers or mobile phones. It's a bet on the human spirit. It's a bet on people. And we're confident that together, with our partners and governments, the private sector, and civil society around the world, who have made this same bet like all of you here tonight, we will preserve the internet as open and secure for all.
On the eve of Human Rights Day, this meeting reminds us of the timeless principles that should be our north star. And a look at the world around us and the way it is changing reminds us there is no auto-pilot steering us forward. We have to work in good faith and engage in honest debate, and we have to join together to solve the challenges and seize the opportunities of this exciting digital age. Thank you all for being committed to that goal and that vision. The United States pledges our support and our partnership going forward."
A NYT op-ed from Vinton Cerf:
"FROM the streets of Tunis to Tahrir Square and beyond, protests around the world last year were built on the Internet and the many devices that interact with it. Though the demonstrations thrived because thousands of people turned out to participate, they could never have happened as they did without the ability that the Internet offers to communicate, organize and publicize everywhere, instantaneously.
It is no surprise, then, that the protests have raised questions about whether Internet access is or should be a civil or human right. The issue is particularly acute in countries whose governments clamped down on Internet access in an attempt to quell the protesters. In June, citing the uprisings in the Middle East and North Africa, a report by the United Nations' special rapporteur went so far as to declare that the Internet had "become an indispensable tool for realizing a range of human rights." Over the past few years, courts and parliaments in countries like France and Estonia have pronounced Internet access a human right.
But that argument, however well meaning, misses a larger point: technology is an enabler of rights, not a right itself. There is a high bar for something to be considered a human right. Loosely put, it must be among the things we as humans need in order to lead healthy, meaningful lives, like freedom from torture or freedom of conscience. It is a mistake to place any particular technology in this exalted category, since over time we will end up valuing the wrong things. For example, at one time if you didn't have a horse it was hard to make a living. But the important right in that case was the right to make a living, not the right to a horse. Today, if I were granted a right to have a horse, I'm not sure where I would put it.
The best way to characterize human rights is to identify the outcomes that we are trying to ensure. These include critical freedoms like freedom of speech and freedom of access to information — and those are not necessarily bound to any particular technology at any particular time. Indeed, even the United Nations report, which was widely hailed as declaring Internet access a human right, acknowledged that the Internet was valuable as a means to an end, not as an end in itself.
What about the claim that Internet access is or should be a civil right? The same reasoning above can be applied here — Internet access is always just a tool for obtaining something else more important — though the argument that it is a civil right is, I concede, a stronger one than that it is a human right. Civil rights, after all, are different from human rights because they are conferred upon us by law, not intrinsic to us as human beings.
While the United States has never decreed that everyone has a "right" to a telephone, we have come close to this with the notion of "universal service" — the idea that telephone service (and electricity, and now broadband Internet) must be available even in the most remote regions of the country. When we accept this idea, we are edging into the idea of Internet access as a civil right, because ensuring access is a policy made by the government.
Yet all these philosophical arguments overlook a more fundamental issue: the responsibility of technology creators themselves to support human and civil rights. The Internet has introduced an enormously accessible and egalitarian platform for creating, sharing and obtaining information on a global scale. As a result, we have new ways to allow people to exercise their human and civil rights.
In this context, engineers have not only a tremendous obligation to empower users, but also an obligation to ensure the safety of users online. That means, for example, protecting users from specific harms like viruses and worms that silently invade their computers. Technologists should work toward this end.
It is engineers — and our professional associations and standards-setting bodies like the Institute of Electrical and Electronics Engineers — that create and maintain these new capabilities. As we seek to advance the state of the art in technology and its use in society, we must be conscious of our civil responsibilities in addition to our engineering expertise.
Improving the Internet is just one means, albeit an important one, by which to improve the human condition. It must be done with an appreciation for the civil and human rights that deserve protection — without pretending that access itself is such a right."
Vinton G. Cerf, a fellow at the Institute of Electrical and Electronics Engineers, is a vice president and chief Internet evangelist for Google
http://www.nytimes.com/2012/01/05/opinion/internet-access-is-not-a-human-right.html?_r=2&nl=todaysheadlines&emc=tha212
Conference in April 2011 at the University of California at Berkeley's information school on technology and human rights. The mix of people involved the event is a microcosm of the intellectual areas and interests coming together to create communities of practice around ICT for humanity: information sciences, communication, law, human rights, humanitarian, and international development.
"Tuesday, April 26, 2011, 8:00 am – Wednesday, April 27, 2011, 4:00 pm, David Brower Center, Berkeley
Information technologies are gaining a significant role in advancing human rights research and advocacy. But technology alone will not make the difference; what will is the combination of human rights defenders with the tools specifically designed to support their work.
In May 2009 UC Berkeley's Human Rights Center hosted "Soul of the New Machine", an international conference focused on exploring the intersection of human rights, technology, and new media. Over 250 leading thinkers, civil society members, activists, programmers, and entrepreneurs had the chance to assess the 'lay of the land' and discuss emerging technologies related to evidence gathering / documentation and advocacy and outreach. The conference was designed to be a meeting point between the tech-savvy world and the human rights community.
Two years later, much progress in the practice and implementation of human rights and technology projects call for a new opportunity to share experiences, best practices, and lessons learned from deploying technology in the field. Building on the success of the 2009 conference, Advancing the New Machine: Human Rights and Technology will convene human rights practitioners and technologists to discuss the progress, successes, and challenges that have emerged.
Sponsored by the MacArthur Foundation; Humanity United; the Stanford Center on Democracy, Development, and the Rule of Law; the UC Berkeley School of Information; The Harvard Humanitarian Initiative; the Payson Center for International Development; the Berkeley Center for New Media; Carnegie Mellon University's Center for Human Rights Science; and the UC Berkeley School of Law."
See website: http://www.law.berkeley.edu/HRCweb/events/TechConference2011/index.html
Tech Gets Enlisted In The War Against Human Trafficking
By SHEILA RILEY, FOR INVESTOR'S BUSINESS DAILY Posted 12/03/2010 04:38 PM ET
The fight against human trafficking is using a few new weapons: texting, iPhone apps and smarter passports.
An estimated 12.3 million adults and children around the world are trafficked — compelled in a variety of ways to work against their will — the U.S. State Department says.
"It's basically modern-day slavery," said Mark Latonero, research director for the University of Southern California's Annenberg Center. "It's a pernicious and widespread global problem."
(Demi Moore and Ashton Kutcher lent their celebrity clout to a November news conference at United Nations headquarters concerning the launch of the U.N. Trust Fund for Victims of Human Trafficking. AP)
The term "trafficking" covers a wide area.
"It's not just forced prostitution, it's also forced labor — people working in slaverylike conditions on farms, fishing boats, in nail salons, whatever," Latonero said.
He's working on a project to make it easier to get help for trafficking victims via cell phone.
The Technology and Trafficking in Persons Research Initiative will allow concerned citizens, potential trafficking victims and possibly victims themselves to text information to a hotline. The project is led by the Annenberg Center.
Texts will be sorted by a computer and sent to appropriate agencies that could help, Latonero says.
The initiative focuses on the Mekong region in Southeast Asia: Thailand, Cambodia, Vietnam, Laos, southern China and Burma.
"This part of the world is a major source, transit and destination region for men, women and children forced into labor and prostitution," Latonero said.
Cell Phones Aplenty
The program could be in place by mid-2011 in Thailand, with government funding and philanthropic grants expected to cover the $500,000-plus launch costs.
Though residents of the region are extremely poor — which makes them vulnerable to trafficking — most have cell phones, Latonero says.
"That," he said, "is our opportunity."
Phones are used on another front in the fight against trafficking. An iPhone application for consumers concerned about whether forced or child labor was used to create their purchase became available last month.
The app, Free2Work, is a joint project of Not For Sale, a San Francisco anti-slavery nonprofit, and the International Labor Rights Forum, a nonprofit advocacy organization for workers. Juniper Networks (JNPR) funded the development of the application, which is free.
With the app, shoppers can access information about the labor practices of some 60 companies, including Nike (NKE), Hasbro (HAS), Hewlett-Packard (HPQ) and Apple (AAPL). It rates the companies' labor practices. Not For Sale compiles information from company Web sites and public databases to create its corporate ratings.
"It's when people are shopping that they really need that information," said Dave Batsone, president of Not For Sale.
(See original Investor's Business Daily Article here).
Among a number of initiatives New York based Digital Democracy is implemeting is a gender based violence centered program in Port-au-Prince in the runup to the Nov 28, 2010 Hatian elections.
Abby Goldberg writes:
"With the support of the U.S. Institute for Peace (USIP), Dd came to Haiti to help some 50 women representing grassroots women's groups in Port Au Prince work more effectively for greater political and social rights in the lead up to national elections on November 28th. This training followed up on two previous trainings this year, in April and July respectively, during which Dd staff worked with Haitian women to use mobile phones, video, and photography to increase their access to political power and rights.  The focus of Dd's work in Haiti has been to expand on the women's understanding of and ability to use new communications and digital media tools to share their voice and report on their realities, this time, with a particular focus on Haitian democracy and the upcoming elections. As a part of this work, we sought to identify early warning indicators of election-related violence and how to report these findings to those who need to know.  Women from the camps – the women we are working with – have the most incentive to combat violence and protect themselves and their loved ones. Women are the most attuned to, most affected by, and most motivated to stop violence in their communities. They also possess critical and unique information that can save lives."
See full blog post here:
http://digital-democracy.org/2010/11/01/democracy-in-haiti-dd-workshop-with-haitian-women-in-port-au-prince-to-prepare-for-november-elections/